Google lanceert Street View in samenwerking met Vindeenfrituur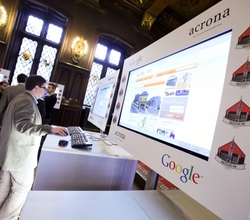 Google today announced the launch of Street View for Belgium, allowing users to view and navigate 360 degree street-level imagery of streets and sites across the country.
Street View is a popular free feature of Google Maps which was launched in May 2007 and is already available in more than 30 countries around the world. It is also available in Google Earth and on Google Maps for Mobile.
In Belgian areas where Street View is available, you can access street level images by zooming into the lowest level on Google Maps, or by dragging the orange "Pegman" icon on the left-hand side of the map onto a blue highlighted street. You can check out a restaurant before arriving, make travel plans, arrange meeting points, or get a helping hand with geography homework. House hunters can save time by exploring properties and their surrounding area in advance and also by looking up driving directions.
Ulf Spitzer, Street View Program Manager at Google: "Today we are very excited to be launching Street View in Belgium. Street View will open up the beautiful streets and sites of this wonderful country to users around the world. We are launching Street View here with different language requirements for certain regions, so all Belgian businesses and users can enjoy the many benefits of the service."
Benefits for the consumer and the entrepreneur
Businesses can also benefit from the Street View technology by embedding Google Maps directly into their site for free, helping them to promote a chain of hotels or increase awareness of a local store or restaurant. For example: a Ghent real estate agent can offer his potential clients a 360-degree view of the street where he has a property for sale. The tourist, whether he is from Brazil or from Belgium can instantly see if the hotel he wants to book is indeed situated in a nice street
Mayor Thielemans of Brussels: "Street View makes it easier for the city of Brussels to show people what unique places Brussels has. The Atomium, Grand Place and Manneken Pis: all these unique landmarks are made accessible to anyone and we are proud to show them to the world". In addition, Google is happy to announce that the following Belgian partners have embraced the Google Street View technology: Immoweb.be, Visit Brussels, Vindeenfrituur.be, TagTagCity, Toerisme Vlaanderen and HOOOX.
Google has gone to great lengths to safeguard privacy while allowing all Belgian users to benefit from this feature. Street View only contains imagery that is already visible from public roads and features technology that blurs both faces and licence plates. In addition, any user can easily flag images for removal that he or she considers inappropriate by clicking on "Report a problem". Google has consulted extensively with many privacy and community groups in developing the feature and privacy safeguards.

For more information on Street View privacy and how it can be used for recreational purposes and by businesses please visit the Belgium Street View site: http://maps.google.be/streetview.